Za več o našem raziskovalnem delu delfinov se prosimo obrnite na angleško podstran…
Hvala za razumevanje!
Končno, avgusta 2017, je objavljena dolgoročna in osnovna študija o pogostnosti ter porazdelitvi delfinov velike pliskavke (Tursiops truncatus) vzdolž Istre in v slovenskem morju. Objavljena je skozi Cambridge University Press, v reviji Journal of the Marine Biological Association of the United Kingdom, z naslovom:
First report on abundance and distribution of common bottlenose dolphins (Tursiops truncatus) in the NATURA 2000 area, Istria, North-eastern Adriatic Sea
Darja Ribarič (a1) (a2)
DOI: https://doi.org/10.1017/S0025315417001424
Študija je pomembna, saj je del mreže NATURA 2000. To je edino dodeljeno mesto NATURA 2000 za morske sesalce na Hrvaškem. Uradna spletna stran pravi, da so podatki pomanjkljivi. Upamo, da bo študija tako pripomogla k ustreznemu upravljanju lokalne populacije delfinov pri nas.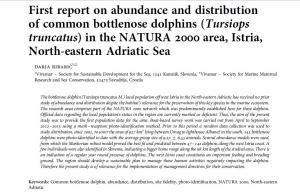 Za popolno besedilo študije lahko kliknete tukaj>>