Vivamar is able to accomplish its mission through the help and commitment of its founders and volunteers. Sometimes, our volunteers are so passionate about Vivamar and the dolphins of Slovenia and off the W Coast of Croatia that they stick around to help in other ways besides data collection. This page is dedicated to them!
If you are inspired by Vivamar and would like to become a volunteer to help us spread our message and maybe make it onto this page someday, check out our Volunteer page, made especially for motivated people like you!
Our Alumni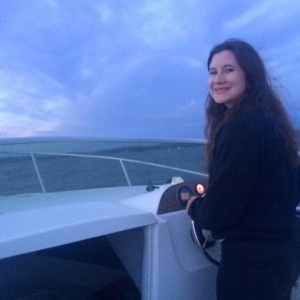 Betty Boyse

Betty is a Marine Biology Student at the University of Portsmouth. She has been a volunteer with Orca for the past 2 years and has had training in surveying techniques. Betty first came to Vivamar as a volunteer last year and spent lots of time learning about photo identification. She returned again last summer because she still hadn't had enough of dolphins yet! This year she is carrying out her third year project for her bachelor on the 'Impact of Nautical Tourism on the Behaviour of Bottlenose Dolphins', with the hope of it being published so that more enforcement is put in place during the tourist season, as it is currently causing the dolphins lots of disturbance. She hopes to continue her education with a Masters and PhD involving cetaceans or marine mammals in general.

Julie Carpenter
Julie started volunteering for Vivamar in the fall of 2015 by  reformatting and writing the English design and content of the website. She has spent thousands of hours volunteering at animal facilities around the world that are focused on animal training, rehabilitation and conservation. She continues to direct her passion for marine mammals towards research and conservation. Before she came to Europe for her master's, she worked as a park ranger in Denali National Park where she helped preserve and protect Alaska's precious resources with a team of well-adapted and enthusiastic sled dogs. Julie believes in using her knowledge about Earth and its living systems to convey not only facts about the animal kingdom, but the deeper meaning behind how animals and humans have been and will continue to be influential and connected to each other. It is crucial for people both young and old to see the big picture and, more importantly, feel a part of the big picture; to be aware that they change the world whether they mean to or not.

Stephanie Adamczak
Stephanie volunteered in summer of 2015 with Vivamar and loved the research so much that she decided to continue helping the organization. She has been assisting with social media posts while preparing to come back for the upcoming field season. Prior to volunteering for Vivamar, Stephanie interned at the Adelaide Dolphin Sanctuary in South Australia and the Riverhead Foundation for Marine Research and Preservation, where her interest for marine mammal science was realized. Stephanie is beginning a Marine Science graduate program in New York at the School of Oceanic and Atmospheric Science at Stony Brook University. Her master's thesis will be on Weddell seals in the South Georgia Islands, but cetacean science will always be her main passion. She hopes to pursue her PhD to continue helping cetaceans and marine life alike.