My second volunteering at Vivarmar 
Spring time brings Dolphins voluntarily up close to the research boat
Submitted by Lena SK – Germany | June, 2023
I already volunteered for Vivarmar last year, but I was so excited that I wanted to do it again.
The group was a bit smaller than last time, probably beacause it was out of the season. This worked out great, because we were able to organize ourselves quickly and worked together as a team in a very friendly and benevolent way.
We often collected data from the land during the so-called "land observation". Still we were also on the boat a few times and were able to observe, document and identify dolphins this platform as well.
We then processed the data using photo ID and fin identification.
Last year I was in Istria in the late summer. This year I arrived in the spring. This made it colder and guaranteed no bathing weather, but you could watch the dolphins with their recently born calves! Since it is was not yet the tourist season, there were fewer "dolphin-watching boats" that put otherwise in the high season too much pressure on the animals.
We then shared our knowledge, which Darja had imparted so well, with the children for the biggst Youth Association from Slovenia and I had an opportunity to have the presentation.
It was a nice success with even a great first price – a hand painintg of a dolphin mum with a calf from another volunteer  – a semi-professional painter, that was with us in the same group!
On the last day, we went on the especially nice excursion – but I won't tell you the destination so that new volunteers can also be surprised.
Because everyone was so friendly, both at work and at leisure, volunteering felt more like a vacation.
I am pretty sure that I will return next year as well.
Thanks to Darja and the other volunteers for making this time so special!
Lena, Germany, 1st of June 2023
**
Volunteering
felt like an active vacation, I learned an amount of new things, met great people and maybe did a little bit of good
I learned a lot about the Adriatic Sea as an ecosystem, about different dolphin species, their physiology and behaviour
Submitted by Lena SK – Germany | September, 2022
This July and August I was able to spend almost two weeks in Croatia with the organization "Vivamar" in Istria/Croatia, which is dedicated to research on and conservation of dolphins.
In Bašanija, the coordinator of the project, Darja, took care of her volunteers and the heart of the project: the observation and identification of bottlenose dolphins off the coasts of Slovenia and Istria.
Guided by Darja, we learned a lot about the Adriatic Sea as an ecosystem, about different dolphin species, their physiology and behavior, how to identify them and how to collect and analyze scientific data about them.
During the day we met to input data, identify individual dolphins and for technical presentations by Darja. In the afternoons, we went out on the boat for data collection or so-called land observation. Watching dolphins gave me goosebumps every time! Unfortunately, the pressure on these marine mammals, so important for the ecosystem, is noticeably high due to overfishing, climate change and many reckless "dolphin watching" boats. It was therefore all the more important that we were able to contribute to drawing attention to these grievances during our volunteering.
We were seven volunteers from different countries, schools, professions and age groups and lived together in a shared apartment where we shared the individual tasks such as cooking and cleaning. That worked out wonderfully. I think that everyone was able to contribute their different strengths and abilities in a positive way. Regardless of this, we also had a lot of fun together after "work" in joint activities.
In summary, these two weeks were an incredible enrichment for me. Darja impressed me with her drive and enthusiasm and she convinced me that the protection and therefore the research on dolphins and other predators is very important. She made me want to continue advocating for these animals even after volunteering.
It felt like an (active) vacation – with the nice side effect that I learned an incredible amount of new things, met great people and maybe did a little bit of good.
For me, this was certainly not my last volunteering and also not my last assignment with Darja, I promise!
**
An unforgettable experience with wonderful people!
Fun and meaningful way, within the summer break, that exceeded my expectations
Submitted by Harry Wang – Stockholm | August, 2022
I first heard of Vivamar from a friend who had participated in this same volunteer program previously. I had not done any volunteer work before, but I decided to try it out anyway as a fun and meaningful way of spending the last days of summer break.
My time at Vivamar exceeded all my expectations and it was truly an unforgettable experience. This project has not only given me valuable insight into the process of scientific research, but also shown me firsthand what incredible creatures dolphins are and how we can protect them. I've learned how to distinguish between different species of marine mammals, how dolphins navigate and communicate, and how threats like dolphin watching boats are affecting the local dolphin populations. Moreover, I've tried my hands on navigating at sea and executing a variety of nautical knots.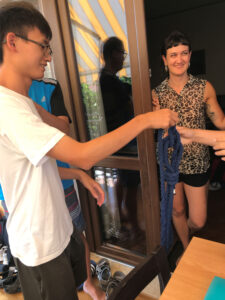 Harry being already on a sailing course mastered the nautical knots already!  
Aside from volunteer work, we also spent many hours relaxing at the beach under the Mediterranean sun, snorkeling in crystal clear waters and watching sunsets from the coast. At our apartment, we'd often have conversations about interesting topics or simply share a few laughs. For our final dinner, Darja invited us to a nearby restaurant where we enjoyed traditional Istrian dishes and talked late into the night.
My time at Vivamar passed quickly, and I will never forget the moments we shared as a group or Darja's passion toward bottlenose dolphins. I would recommend this volunteer program to anyone who wants to learn more about marine mammals, meet new and interesting people, and do work that is both enjoyable and meaningful.

Beautiful sunsets off Istria are always adorable!
**
My time with dolphins in Croatia was fantastic!
Learning about the dolphins, helping them and making new friends – maybe even a roomie?
Submitted by Marie B. – Germany | August, 2021
It really was one of the best choices I made to join the Vivamar volunteer programme this year!
The exhaustion from the long bus trip form Berlin, every doubt I had about it beforehand- it was forgotten when I finally arrived. Darja's passion for dolphins and their protection immediately lit up a spark in all of us and it was a joy to work together.
My birthday was unforgettable, thanks to our amazing group who even got me a cake!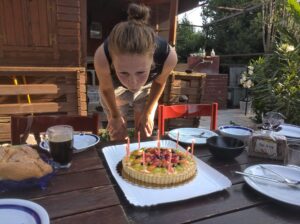 And the dolphins I saw in the most unexpected moment!
We helped in analysis of the photos obtained on the sea, recognising one dolphin from another, and learning so much about dolphins in the mornings
Boat trips and the unforgettable moments having fun. 
and of course the boat trips in the afternoon were my highlight. Not one time went without seeing dolphins and the sunsets were magnificent.
But we also witnessed the problems dolphins face and knowing that our work really mattered for the animals and Vivamar was a huge motivation!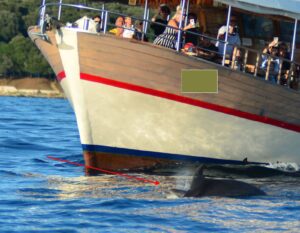 The above situation is at most not correct how to observe the dolphins. The boat is much too near (it should be on 50 m distance) and the baby dolphin, next to its mother, is absolutely threatened and stressed out. 
In between data analysis and watching dolphins we also had time for swimming and snorkelling or exploring the beautiful coast close to our hostel by bike.
Making new friends and discovering that we will visit the same University in the future! Amazing!
On our last evening we visited a well-known artist village in the area together and had dinner in a nice restaurant which was the perfect end for our amazing time in Croatia. I am really grateful for that experience and would recommend it to everyone who is interested in marine life and loves summer adventures!

Being out at the sea and enjoying the views and the dolphins!
**
Celebrating for Dolphins and helping them!
From helping to the Dolphins all to learning about the nautical knots 😉
Submitted by Jonas C. – Belgium | August, 2020
I joined the project to learn as much as possible about dolphins and marine biology.
Not only did I learn a lot, I also got to experience one of the most enjoyable things I have ever done.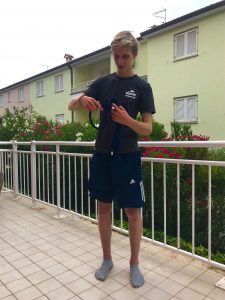 Darja is really an amazing person who always puts the dolphins and the volunteers first. She has a lot of experience with dolphins as well as in conducting research. This was very interesting to me, as a future scientist, as I've seen she makes a lot of decisions that I might make myself later on.
Her story certainly inspired me.
She has put a lot of her personality into the project, and that's what made it so great.
The 11 days went by really quickly, just because the days were packed with fun activities. There was a good balance in collecting and processing data, free time and, of course, seeing the dolphins.
Darja gave each one of the volunteers a bike, which gave us a lot of freedom to do all kinds of activities a little bit further from the hostel.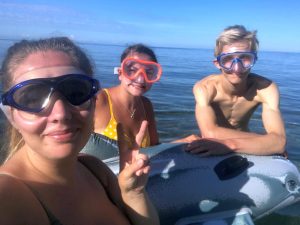 Our group was amazing too. Everyone was very different, a mixture of different age groups. This was no problem at all and we had a lot of fun together.
I wouldn't have wanted anything any different.
I did my matura with Vivamar and Dolphins
Submitted by Sarah- Switzerland | August, 2016
I have always been into the sea and dolphins so I was really excited when I found out this project for dolphin conservation. I thought to volunteer for such a purpose would be a good thing. When I had to choose what to do for my matura, final work exam at school, I asked if I could do it about dolphins and from what they are endangered and the project leaders agreed with it.
By volunteering for dolphins I learned more about the research work. But not only this, I also had a good time during doing my work with the other volunteers.
We went swimming in the sea, sunbathing at the beach or just drinking a beer and get to know each other better.But what's the best of all: you see dolphins in the wild. It's so great to see them swimming in the wide ocean free and their movements. I can't believe people are catching them and put them into an aquarium.
I would recommend this poject to everybody who wants to have a closer look at the researcher life and wants to do something good for the sea and its amazing inhabitants.
Project for the bottlenose dolphins which was a total jackpot…
Submitted by Anja- Austria | July, 2016
After a short search on volunteer opportunities I became quickly aware of the project for the bottlenose dolphins, which was, in my opinion, a total jackpot. From the first day on I got the feeling I was into something important. From the little tasks like washing the dishes to gardening I was always feeling the spirit. We did good work on research comparing dolphin fins on the pictures we took. In our free time we enjoyed the underwater world of the Adriatic Sea, snorkeling for hours! Of course, the most beautiful time I spent here was when we went out on our boat trip to get new pictures and data of our lovely dolphins.
I will always remember the first time when I saw a fin breaking through the surface of the sea and the joy I felt having a look into the eyes of an animal that is so intelligent and free!
A great and memorable experience!
Submitted by Isabel- Germany | May, 2016
The time I spent with the project leader and the other volunteers was an experience I surely will never forget. You get a good insight into the life of the dolphins living in the adriatic sea and the threats that endanger them. This knowledge that we gained from this dedicated Dolphin conservation society Team we could apply directly on our trips on the research boat, while enjoying the sunset -and the dolphins of course- at the same time. On the days we didn't visit the dolphins, a project leader showed us a part of the scienific work of dolphin research which was very interesting.
The atmosphere was relaxed the whole time, we all got along well. That's why we also had a lot of fun during our free time which we spent snorkeling, laying at the beach and visiting some beautiful towns. I definitely recommend this volunteering project to anyone who is interested in helping the dolphins and keeping the sea healthy!
I highly recommend volunteering with Vivamar.
Submitted by Betty – London | September 09, 2015
I highly recommend that anyone interested in marine mammals volunteers with Vivamar. Not only is it a beautiful place to stay and learn about a new culture but you also get to learn about a group of bottlenose dolphins who really need your help. I was particularly saddened to witness the lack of regulation within nautical tourism- I witnessed 10 boats surrounding the dolphins while they were trying to feed and becoming so nerved by the boats that they left this important feeding ground without hunting. However thanks to Vivamar, information about the dolphins is becoming more and more available in the society- my Vivamar team celebrated Dolphin Day of Funtana where lots of locals and tourists came together to learn more about dolphins and we also handed out flyers from the boat about how to behave in front of dolphins. Back at the research base we spent lots of time identifying individual dolphins by their fins and by the end of our stay were starting to see which dolphins were more commonly sighted and who hung out with whom which was very interesting and rewarding. The work of Darja Ribaric and Vivamar is so admirable and aspiring, especially to me as someone who hopes to study marine mammals, and I can guarantee you that you would have an amazing experience with her!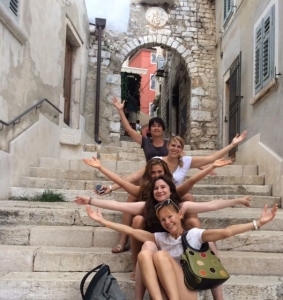 **
Helping Dolphins is a Blast!
Submitted by Connor – Sydney | August 20, 2015
I had such a great volunteering experience with Vivamar Society. It was my first volunteering and I absolutely loved every minute of it. Darja is like a little guardian angel for Dolphins. Its so nice to see someone who has given up everything in order to serve something bigger than herself. We had so many great adventures to nearby towns and villages and also on the water adventures. Going out on the research boat is a thoroughly enjoyable experience, seeing dolphins in the wild is one of the best things you'll ever see not to mention doing it on many occasions. You really get to know each dolphin by the end of your time as you spend many hours trying to spot the fin. I learn't so much and there was never a dull moment. The food was also some of the best I've eaten. It was a great chance to meet people from all walks and who all share the same goals. Thank you Darja and Vivamar for all that you do and I hope that Vivamar can continue to be an Ambassador for Dolphins in the NE Adriatic.
p.s If you would like to see what it consists of check out the video I made of our time with Vivamar
www.youtube.com/watch?v=RyCuxVm4TFo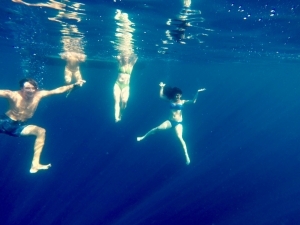 **
This is Dolphinately worth doing!
Submitted by Hayley – Sydney | August 20, 2015
I had the most amazing week volunteering with Vivamar and could not recommend this program highly enough. Darja, one of the founders of Vivamar, is one of the most charismatic and passionate people I have ever had the privelige to meet and have learnt so much from her throughout the course of the week about dolphins and marine conservation. Going out on the research boat for dolphin observation was definitely the highlight of my day, no two days were the same and every dolphin sighting got the whole team excited as we started to recognize different trends and towards the end of the week even some of the dolphins! Our research team were incredible, we shared so many laughs and it was wonderful to work closely with a group of like minded people. Thank you Vivamar for the life long memories and friends, I hope I can come back next year!
**
Connecting fun and work
Submitted by Ulrike – Berlin | July 31, 2015
For me personally it was a wonderful experience to see such amazing animals and get close to them, it was interesting to observe them and getting useful explanations about their behavior from Darja. With analyzing the collected data we made the first step in the right direction to protect this endangered animals and I hope Vivamar will have more and more success in the coming year! Besides that we had enough time for swimming and enjoying the countryside. And it was great that the group size is very small.
**
Best experiences of my life
Submitted by Shannyn –  Sydney | July 27, 2015  
Volunteering with Vivamar was one of the best experiences of my life. The program is both educational and fun. We spent our days between researching and getting out on the boat to find dolphins while still having plenty of time to ourselves to relax, swim and explore the beautiful area. With only a small number of participants in each group it is really easy to get to know each other and learn to work together well.
Vivamar bottlenose dolphin conservation is doing wonderful work and I am glad I got the chance to help!
**
Making a difference
Submitted by Linn Samuelson – Stockholm | July 23, 2015  
Being a part of this volunteering program was a wonderful experience for me. Dolphins are fascinating animals who are both intelligent and beautiful. I had a great time getting to know new people, observing the dolphins and at the same time being able to help them and make a difference. I will keep these memories close to my heart. I definitely recommend this project to anyone who wants to contribute to a better life for the Bottlenose Dolphins and other animals in the Mediterranean!
**
Incredible Experience
Submitted by Jessica – Turin   | July 03, 2015
Volunteering with Darja and Vivamar was both exciting AND educational – until now I never knew how endangered this marine ecosystem was or just how much more we could be doing to preserve the way of life of these beautiful mammals. Out in the Vivamar Research Boat most days we were able to get up close to dolphins to research their movements and habits, and on the rare occasions when we didn't find dolphins we were able to enjoy this beautiful coastline, swimming and snorkelling and having fun. We also learned a great deal about the animals themselves and the methods used to carry out the research, and saw firsthand the effects of commercial fishing and tourism. Truly an incredible experience and I can't wait to come back!
**
Laughing like a dolphin….
Submitted by Nora – Duncan   | July 03, 2015
The whole experience was absolutely wonderful. From the first meeting we were all laughing, smiling and having a wonderful time.
The time on the boat was fab. I had never seen a dolphin before and now I have seen dozens!!
The community impact is obvious and very important. It's groups like this who will be changing the world– for us and for the dolphins.
We never went hungry… I think I even gained a few kilos on the trip. 😉
Warm, friendly, exciting, educational, relaxing and AMAZING. I couldn't say more about this project.
**
I love Dolphins and marine life!
Submitted by Cristiana – Trieste   | June 01, 2015
I was born and I live in Trieste, north-east of Italy, very close to Istria, which is just few km southwards from my town. I am an experienced diver and I love the sea, its creatures and marine life. The conservation program was something I always wanted to do and Vivamar gave me this great opportunity! I was amazed by the dolphins and was very Happy to help in this important activity. Rovini is a beautiful old town in Istria, the food is excellent, I spent holidays there before. I am very happy and highly recommend the participation!
**
I love Dolphins and marine life!
Submitted by Cristiana – Trieste   | June 01, 2015
I was born and I live in Trieste, north-east of Italy, very close to Istria, which is just few km southwards from my town. I am an experienced diver and I love the sea, its creatures and marine life. The conservation program was something I always wanted to do and Vivamar gave me this great opportunity! I was amazed by the dolphins and was very Happy to help in this important activity. Rovini is a beautiful old town in Istria, the food is excellent, I spent holidays there before. I am very happy and highly recommend the participation!
**
One of the most special experience in my 'whale' life!
Submitted by Davide – Cesenatico  University of Bologna | May 07, 2015
Really amazing program! I learned for the first time in my life about Dolphins and met them in their natural environment. Vivamar and dolphins convinced me so much that I volunteered for them already three times. It made me happy and fulfilled to help in dolphin conservation. Croatia is an Italian neighbour country and is extremely safe and clean. The program coordinators are helpful and professional. I'd advise it to everyone who want to learn more about these animals and would need the credit point for their studies.
**
Wonderful time there
Submitted by Christian Andreas Grunwald – Stuttgart   | May 06, 2015
I am a mental coach in Germany and I am strongly interested in all purposes to save nature and to protect the world we live in as well as all the wild animals, that we share our planet with. So a friend recommended to me Vivamar conservation program for Dolphins where I then took part. It was a great experience in Europe, just few hours flying from Germany to Istria to the research base. I had a wonderful time with dolphins for 11 days in 2014 and would repeat it when finding more time. The team was fun being with and I learned a lot about dolphins and how important they are for the sea.