Become an Ambassador of Dolphins to help protect these incredible marine animals!
Why "Ambassador of Dolphins"?
By purchasing any of our items from our gift shop, you are directly helping in the conservation and protection of bottlenose dolphins (Tursiops truncatus) in the Adriatic Sea. We have several unique and attractive options for men, women, and even children. You can place all orders by emailing this address and specifying which style and size you would like to represent the dolphins with.
Here are your options:
Order a one of a kind T-shirt – hand painted by our friend, an academic painter, who is herself an Ambassador of Dolphins. It's in-textile printed with an acquarelle technique motif of a playful dolphin from the research area.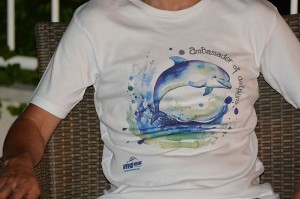 A high quality fleece with a sewn "AMBASADOR DELFINOV" and Vivamar logo on it. (I'm wearing it right now, and it's super comfy 😉 )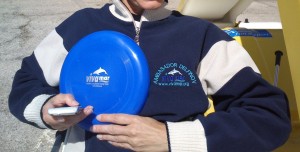 A polo shirt with a modern designer look writing "AMBASADOR DELFINOV". We also now officially have this design on the back of regular T-shirts like the one above. Remember, you can pick your own style!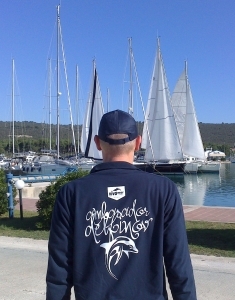 Raising funds this way helps us in conducting further dedicated research of bottlenose dolphins. Every little bit of funding and advertisement helps so much in raising awareness for our healthy seas and marine mammals.
Be original, give a gift of an "Ambassador"!
How to order? Simple!
Write to us on info@vivamar.org or send an SMS to +386 41 435 500.
Indicate your item and the size and the address where it will be sent on delivery.
PRICES:
– T-shirt: 25 EUR for adults (sizes L, M, S)  or 17 EUR for a child (sizes 116, 128, 152) (+ postal expenses);
– POLO shirt: 25 EUR (sizes L, M, S)  + postal expenses;
– Fleece: 35 EUR (sizes L, M, S) + postal expenses;
Looking for other ways to help and make a difference?

– Become an active volunteer by joining active research on the boat. While we do ask volunteers to cover their own cost of the experience, we offer professional advice and direction about all aspects of marine mammal research, including data collection, analysis, and presentation of such information to the public to raise awareness and truly make a difference!
– RECOMMEND or FORWARD this message to your friends (post it to Facebook and share the link!
– Donate funds, and/or encourage your friends and loved ones to! 
– Become a sponsor (for details refer to "contact" and here >)