In cooperation

with the Port of

Koper, and its project "Living with the port" strieving t
o

raise the awareness

about the port's role

for

the local

public

,

Vivamar

Society

conducted

educational

workshop about

dolphins in the

Slovenian

sea.

As in all workshops prepared for children also here we were enjoying and laughing, teaching children and observing and encouraging their creativity and interest about dolphins in the slovenian and marine environment. The main topic was: "Does maritime transport affect the distribution and presence of the bottlenose dolphins (Tursiops truncatus) in the Gulf of Trieste?"

During the workshop we thought children about the importance of dolphin conservation in the Slovenian sea and contiguous waters; we mentioned the code of conduct when dolphins are seen at sea and we are out by boat, and why dolphins are important for the marine environment. All adjusted to a simple manner through game and for the particular age of children.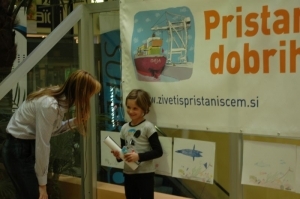 After completing the workshop we checked the gathered knowledge through the fun questions and quiz and have awarded children with nice symbolic prizes! Definitely something that kids will remember!
And finally – at the end satisfied and happy faces of our new fans …